So I had been wanting to do a photo shoot in a wooded area for the longest time. I had seen recent work of other photographers and it got me thinking about a few ideas of my own. I decided to shoot in an area known as the Angeles Crest Highway (in Los Angeles). The Angeles Crest Highway is a scenic two-lane road located north of the Los Angeles basin. From a photography perspective, it's very desirable. The area provides access to beautiful mountain vistas, lots of open area, minimal traffic and best of all, miles and miles of dense green forests. Being that I had been thinking about this shoot for so long, I knew what I wanted to achieve. I just needed to find the right model and make it happen. Luckily, my friend Jean was up for the task!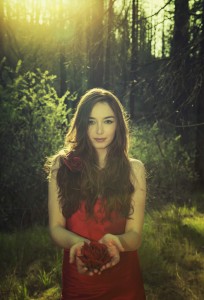 On the day of the shoot, I loaded my truck with all the necessary equipment and headed towards the destination in the Los Angeles mountains. I made a quick stop to pick up Jean and then continued on. As we made our way into the mountains we began discussing our ideas and objectives for the day. Spirits and energy levels were really high and I was envisioning several different scenarios for shots. I hadn't been near the Angeles Crest Highway for a few years, but from past experiences there I knew what to expect; the area is loaded with pristine forest land. What I hadn't counted on was massive amounts of the area being completely scorched by a recent fire. As I drove higher and higher into the mountains, the lush forest I had anticipated was nothing more than charred ruins. I couldn't believe it.
Despite initial disappointment and growing angst, I continued driving for several more miles. Really, there was nothing I could do about it. I was already there with everything I needed except what I came for – green forest. Eventually, we came upon a small campground area that had been miraculously spared from the fire. While there was some evidence that a fire had passed through the campground, most of the landscape in the campground area was unscathed. By this time it was about 3:00PM and the hazy light cast by the afternoon sun was perfect for pictures. I parked the truck and surveyed the area. By most accounts, the location couldn't have been better. It was accessible yet isolated and offered several different possibilities for shooting. My wife and I unpacked the equipment while Jean changed into the first outfit she had chosen for the shoot. We discovered a massive tree that had fallen during the fire. I immediately decided to include it in the shoot. Luckily, Jean was willing to climb on it and walk around as I framed several shots – thanks for your daring flexibility, Jean!
We ended up shooting at the location for several hours and I'm very happy with the images we captured. I can't thank Jean enough for her flexibility and easy-going spirit. In the end, I guess it's all about being flexible, keeping an open mind and working with what you have at hand.